Best Products for All Skin Types
By Sarah Cherres
As someone who takes excellent care of her skin, I am always looking for skin care must-have products and tips to solve my skin's problems and needs. I come from a long line of good skincare habits, but I have friends in their thirties and forties who have never developed a routine. The most important tip I have found, by far, is to wash my face before bedtime. Sleeping with makeup invites not only bacteria, but also possible irritation, dryness, and blemishes.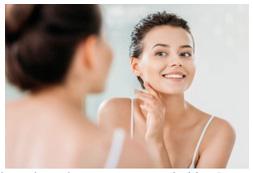 Where are you in your skincare habits? Whether you are looking for a new facial routine, fighting blemishes and skin changes during pregnancy, or looking for ways to soften mature, dry or cracked skin, it's crucial to find the right products for you. It is almost impossible to try every single product available on the market, which is why it is so important to read authentic reviews and to try products recognized by reputable organizations, such as the Women's Choice Award, which has made it their mission to simplify women's lives by identifying the brands and products recommended by 9 out of 10 women in America. Let's look at some of the best, fan favorite brands loved by women.
Skincare for Blemishes
If you are looking for products to create a skincare routine that lasts through various life stages, consider Belli Skincare Products. Hormones can react and give us skincare challenges at any time. Whether you have a teen daughter that is struggling with acne, a mom-to-be looking for the best products to use during pregnancy, or a new mom in need of products that are safe to use while nursing, Belli has options to help. The company started with the mission to create products safe to use for mom and baby. They have now expanded to create products for many life stages, including well before, during, and beyond pregnancy.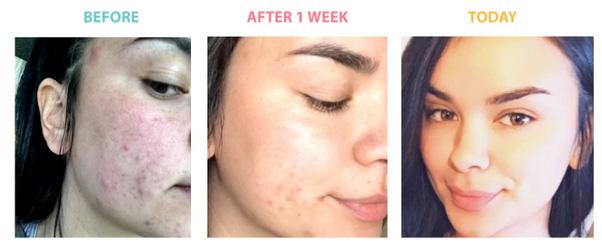 Many of us deal with blemishes and breakouts. Sometimes they happen at the worst possible moments, like before a date or a big meeting with a client. Others, with more severe cases, experience acne as a debilitating condition that affects their daily life. For blemishes and spot control, 9 out of 10 women in America highly recommend Belli's Anti-Blemish Facial Wash and Acne Control Spot Treatment. Their products are allergy tested, paraben-free, gluten-free, and have no artificial dyes or fragrances. Belli Skincare products are also recommended by OB/GYNs and Dermatologists as safe to use during pregnancy and while nursing.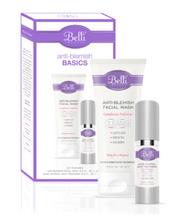 To try their different skincare lines, Belli created sets designed to help with specific skin needs. One example is the Anti-Blemish Basics Bundle, which includes the Anti-Blemish Face Wash and the Acne Spot Control Treatment to cleanse and treat blemish-prone skin. If you or a loved one in your life is expecting, check out the Belli Skincare Baby Bump Duo, which includes an All Day Moisture Body Lotion and the Elasticity Belly Oil, which prepares the skin for growth and stretching during pregnancy.
Skincare Products for Dry and Cracked Skin
Dry and cracked skin can also present itself at any moment. Whether it be due to changing seasons, a propensity to dryness, spot dryness, hormonal changes, or maturing skin, we have all experienced dry skin. For deep hydration, 9 out of 10 women in America recommend Adamia as a top therapeutic lotion. The company offers three great products that treat areas of concern. Adamia Therapeutic Repair Lotion provides relief for the entire body. Adamia Therapeutic Repair Hand Cream is also available to provide extra care for cuticles and hand cracks. If your area of concern, like mine, are your feet, Adamia Therapeutic Repair Foot Cream can also help soften distressed and cracked feet.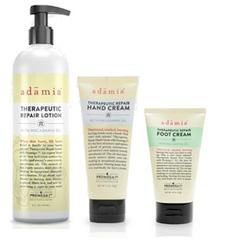 Adamia products use soothing macadamia oil as the base of the skincare line. The oil's properties resemble human skin oil. This natural remedy is also rich in omega-7, which, combined with the most soothing and effective moisturizers, creates the powerful Promega-7 blend. One major drawback of rich creams is slow absorption and greasiness. Adamia is formulated to absorb quickly and is smooth to the touch. Adamia products are often used to treat maturing skin effectively.
The results of Adamia's clinical trials have shown the reduction of skin tears over ten days, as well as the reduction of dryness, irritation, and scaling over eight weeks. Adamia products are free of petroleum, parabens, gluten, and soy. They are also dermatologist-tested, cruelty-free, and vegan-friendly!
Everyday Skin Hydration & Scrubs
For those of us who enjoy the perfect combination of aromatherapy and a shower routine, you will love Tree Hut. Their Body Butters are available in exotic scents like Hawaiian Kukui, Tropical Mango, and Lychee & Plum. These extra-thick body butters are made with Certified Shea Butter, Raw Cocoa Butter, and Safflower Seed Oil. The extra creamy body butters soften skin and provide 24-hour deep hydration.
The Tree Hut Body Butters can also be paired as part of a shower routine with the line of Tree Hut Shea Body Scrub. The combinations of oils and other ingredients in the scrubs provide gentle exfoliation and hydration to the skin. Tree Hut Shea Body Butter and Shea Body Scrub have both earned the Women's Choice Award as 9 out of 10 Customer Recommended Shea Body Butter and Shea Body Scrub brand.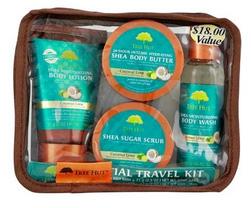 One of my favorite products from the Tree Hut product line is the Essential Travel Kit. Currently, it's available in Coconut Lime and Moroccan Rose. The kit includes the Tree Hut Moisturizing Body Lotion, the 24-hour Intense Hydrating Body Butter, the Shea Sugar Scrub, and the Shea Moisturizing Body Wash. It's not only a great way to sample all the products from one scent family, but also a smart idea to take your shower routine on the go.
Love Your Skin & Your Skin Care Routine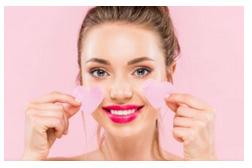 The most crucial part of any skincare routine is to find the right products for your skin type and specific concerns. Once you learn how to take care of your skin, a consistent routine is what will give you results and continued benefits. These three fantastic companies, Belli Skincare, Adamia, and Tree Hut, have all been tried, tested, and approved by women in America, as determined by the Women's Choice Award. To learn more about the Women's Choice Award, and how the awards are determined, visit WomensChoiceAward.com.
Back